Having grown up in a family surrounded by people who made a living designing, making, selling handbags, saying we knew nothing about bags would be an understatement. But asserting we knew the product very well would have been slightly inaccurate. It turns out 2021 is the year where we had to up our game. Here's what we learned so far.
In this article, we'll be sharing three guiding principles to develop a quality product. These are based on our observations, our (short but insightful and rich) experience, and advice from product experts. We hope to apply these guidelines to future projects.
一 Taking our time
We design timeless products and drop them by Series, far from the rhythm of fast-fashion brands. That's why we care so much about product development and manufacturing process and make sure it's done the right way. This is how it goes: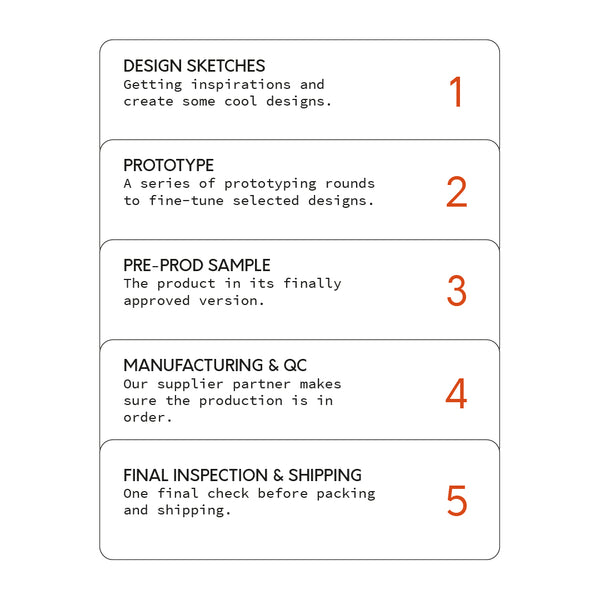 1. Design Sketches: We get as much inspiration as possible to sketch out some technical drawings and suitable designs and start building our collection.
2. Prototyping: We check the shape, measurements, as well as points for improvement. We discard the designs that didn't make the cut. Through trial-and-error and two to three rounds of prototyping, we get closer and closer to a technically well-thought design, and a functional product.
3. Pre-Prod sample: the product in its final version, in all the colors we'll eventually sell. A small meeting takes place between the relevant production team and the atelier manager to highlight attention points or technical specificities.
4. Manufacturing & In-line Quality Control: We trust our supplier partner with doing what they do best. Professional in-line QC teams thoroughly check product panels, semi-finished products' quality as well as finished products, to ensure they conform to the Pre-Prod sample.
5. Final Inspection & Shipping: One last thorough check by the QC team of 100% of our products before we approve shipment. We ask for a third-party inspector to check the goods. If we are on-site, we take the time to do this ourselves.
二 Seeking quality materials
No matter how great your design is, it won't look good if it's interpreted in the wrong material. That's how important finding the right material is.
For Series 001, we wanted a light material, water-repellent, and which could be worn across seasons.
We consider sustainability as an important attribute but chose not to include it in our first Series for various reasons (we'll share our thoughts on the matter at a later Deep Dive article!). In any case, we believe being more responsible should be the norm and be something all brands must strive toward every day.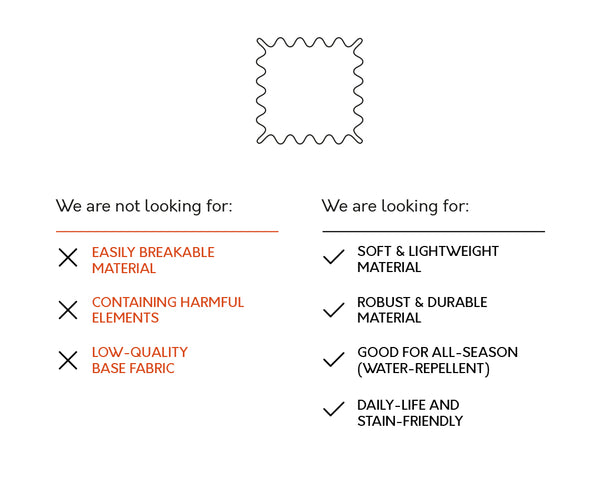 三 Bringing in experts
Surround yourself with technical, material, or product experts, and consistently communicate with them. This is fundamental to ensure products are made the way we wanted them to look while taking into consideration technique, cost optimisation, and product durability. We are constantly learning and we are very thankful for that!
All in all…
A good design requires the combination of…
A Good Technique: With technical engineers expertise, Choosing the right reinforcements, A cost-efficient design
A Good Design: Style and Creativity, Functionality and Versatility, Aiming for a design that can last through years
A Good Material: Comfort, Durability, Wearability
We still have a lot to learn. But we hope you have a better idea of how things are done after going through this month's Deep dives. Until next time.
If you're willing to know more about the designing process, click here.