Behind the scenes, Series 001.
All three of us always liked experimenting and doing new things. Tackling this brand project was a challenge, and it felt so natural for us to decide to do everything in-house.
From product development, brand image creation, series 001 artistic direction, following-up on sample development and batch production, website and content creation, we took up to the task and pushed forward.
We want to share as much as we can on the creative process and the Behind the Scenes of the first Series.
October 2020
Summer was over (and school was definitely over too).
What next? The traditional job market was still slowly recovering and most part of the world was stuck at home. A path opened. "Let's start working on trigram." - Was it the right time? Definitely. We already had our logo. Now, everything else was to do.
While Kevin and Clarisse worked on branding, product development from Paris, at that time Laurence was in Dongguan, China, trying to source innovative materials at textile markets. To make a great product, you need first and foremost the right material.
November 2020
Kevin and Clarisse took a flight to China! Time difference was no longer a problem, and communication was WAY more efficient and smooth.
As we were on-site everyday, we worked on the products directly with pattern chefs and technicians from our partner supplier, and made test samples with different materials. This meant faster development, less margin of error or miscommunication, no need to send approval samples back and forth by air.

After several trials with different materials and reinforcements, the chefs got to the perfect "cloud" touch feel we wanted. This was monumental for us, because it meant we could finally go forward with building up the collection.
Meanwhile, metallic hardware and other accessories were being tested and approved on the spot.
December 2020
It was time to pick the final product colors. We wanted this first Series to be timeless but most of all, stylish and appealing for both men and women of all age. It was very important for us to have unisex products. That's why we chose to go with a matte charcoal-like black, a very nice olive-green clay and a greyish lake blue.
Print testing came back from our supplier and we were pretty happy with the result. Colors were signed off!
Production readily started as main material rolls and different parts started to be delivered. Soon enough, we had one piece of each bag in every colorway. How cool was that!
Oh, we almost forgot but it was also time to design and sign off label tags, carton boxes, and all packaging-related matters.
January 2021
Production of the first batch went on smoothly. We thought about shooting some pictures of the atelier's production line.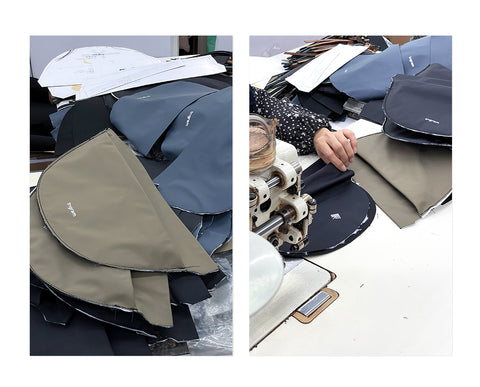 More importantly, it was time for us to shoot the product. We built up our own little photo studio, with three big flashes, a white background, using Sony gear.
We liked the idea of documenting the semi-finished product, as we were literally a few meters away from the atelier. We also thought it was very cool to see the products from another point of view, from the inside.
We also wanted to convey personal references into our photoshoot. For product photography, we brought some spark to monotonous white-background product pictures, by injecting in some everyday items on product picture frame.
We ate some bananas, made handbags fly in the air, and got to water a plant during the photoshoot. We had a lotta fun.
February 2021
Because it was Lunar New Year period, our suppliers in China were on holiday break for two weeks. We took this opportunity to shoot with our products wherever we went, to test the waters. We were still in the process of finding the visual feel, mood, inspiration for this first Series.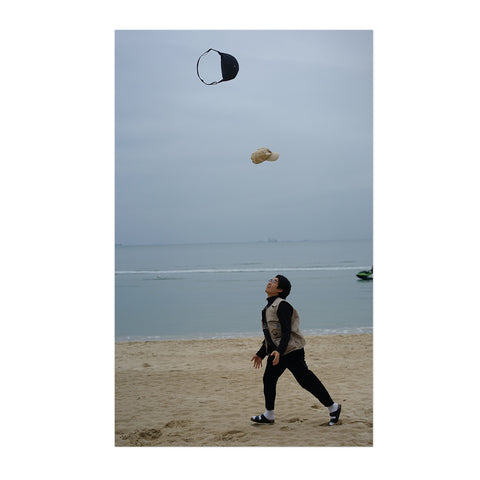 March 2021
For us, having creative intent at all times is essential and at the core of what we aim to do. We tried to maintain a creative process in whatever we were doing. We do prior research separately, share them together and brainstorm to get fresh ideas.
Some research on where we wanted to shoot in Shenzhen and styling too.
Because the first Series focuses on everyday life, we wanted the pictures to have a very natural feel. We took pictures in a very flexible way, by immersing ourselves into a specific location, very much like street photography.
As Series 001 features everyday-oriented products, we wanted to shoot the bags in everyday life locations. Because of our background, we absolutely wanted to have pictures in both Shenzhen and Paris, and decided to shoot at atypical or lively locations. We contacted friends in Shenzhen (massive thank you, thanks for the help!!!), or became one-day models ourselves to live up to the task!
April 2021
Kevin went back to France. He immediately messaged some friends to plan the Paris photoshoot.
Meanwhile, the sisters are finishing up things editing pics, fine-tuning brand image (and preparing what's coming up next wink wink).
It was also time to go full-speed on building up website-related matters.
Oh! And products were finally ready to ship.
May 2021
Wrapping-up. Products are being shipped by sea, and while we were making final edits for the launch, we were tracking our vessel's position everyday. We were hoping for our dear vessel to arrive to destination on time… and crossed our fingers.
"Arrival to port: June 4th." We are so relieved! Just in time for our launch 7 days later! Great timing.
Now, the adventure is only starting…
June 2021
Series 001 is here !!
Over to you now! :)